FLAC is committed to providing a welcome and confidential environment for LGBTQI+ people seeking legal advice.
Building on previous initiatives, FLAC has established a pilot LGBTQI+ free legal clinic in order to meet the specific needs of the gay and trans community. This clinic is funded until the end of August 2022.
Information regarding the Official Launch is below: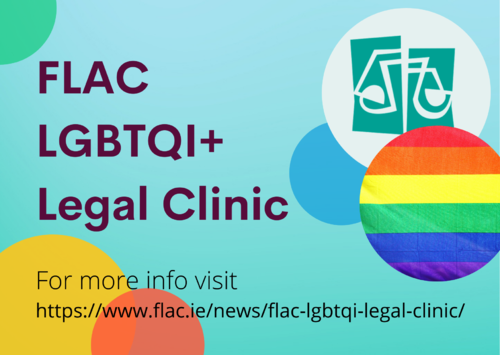 This weekly clinic is appointment only, and can provide advice on a wide range of legal issues where gender and sexuality are a factor, including discrimination matters, equality, family law, gender identity, immigration, hate crimes, and access to healthcare. Consultations may be held remotely or in-person in our Dublin office.
If you have a legal query and wish to speak to a legal practitioner in the FLAC LGBTQI+ clinic, please send an email to [email protected] including your full name, phone number and a brief description of your query and a FLAC representative will be in touch.
FLAC is also currently conducting research on unmet legal needs in the LGBTQI+ community so our representative may ask if you wish to participate in this research.
The Department of Children, Equality, Disability, Integration and Youth made a one-off funding award to FLAC through the LGBTQI+ funding scheme to identify the extent of unmet legal need and to prepare a report into how this could be addressed through the provision of dedicated legal services, information and training.